Sicer smo se ravno spravljali napisat nekaj drugega, ko odpremo wp-admin in pred nami se spet zablešči eeeeeeek grozni napis "WordPress XY is available, Please update now". WordPress že od kar smo ga inštalirali nudi čist vse kar od njega potrebujemo (razen sistem za ravnanje s slikami nam je že od vedno štorast in čuden, čeprav je zadnje čase malo boljši) in vsaka nova verzija pomeni samo delo. Zato smo bili blazno veseli, ker se je poleg napisa WordPress XY is available, Please update now zableščal tudi napis Yeeey! "Click here to Automatically upgrade WordPress to latest version" .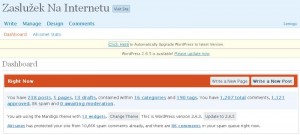 Takole to izgleda.
Nazadnje, ko smo bentili nad nadgrajevanjem smo se spomnili nasveta, ki nam ga je enkrat dal ferme.si, in si instalirali
WordPress Automatic Upgrade
Plugin nam preko samo nekaj klikov v administraciji wordpressa čisto varno nadgradi wordpress na novo verzijo. Po želji nam zraven naredi še backup datotek, mysql baze in pomije posodo. Slava mu!
Dobi se ga pa tule.
Tako lahko več časa posvetimo služenju denarja na internetu (beri – brskanju po drugih blogih, branje internetmojstra in dp foruma in podobne nadvse pomembne izgube časa hehe) in manj časa s popravljanjem stvari, ki niso pokvarjene oz. s praskanjem tam kjer nas ne srbi.